If, like me, you occasionally think to yourself "I really should read some more of the Anglican classics," but you don't have enough money or patience to wade through turgid prose in ancient volumes that either cost an arm and a leg or are difficult to find, then you really need to check out what the Davenant Institute is publishing.
The Laws of Ecclesiastical Polity in Modern English
Specifically, I'd like to highly recommend volume 1 of Richard Hooker's classic The Laws of Ecclesiastical Polity, which has been painstakingly modernized by Bradley Belschner, Brian Marr, and Bradford Littlejohn.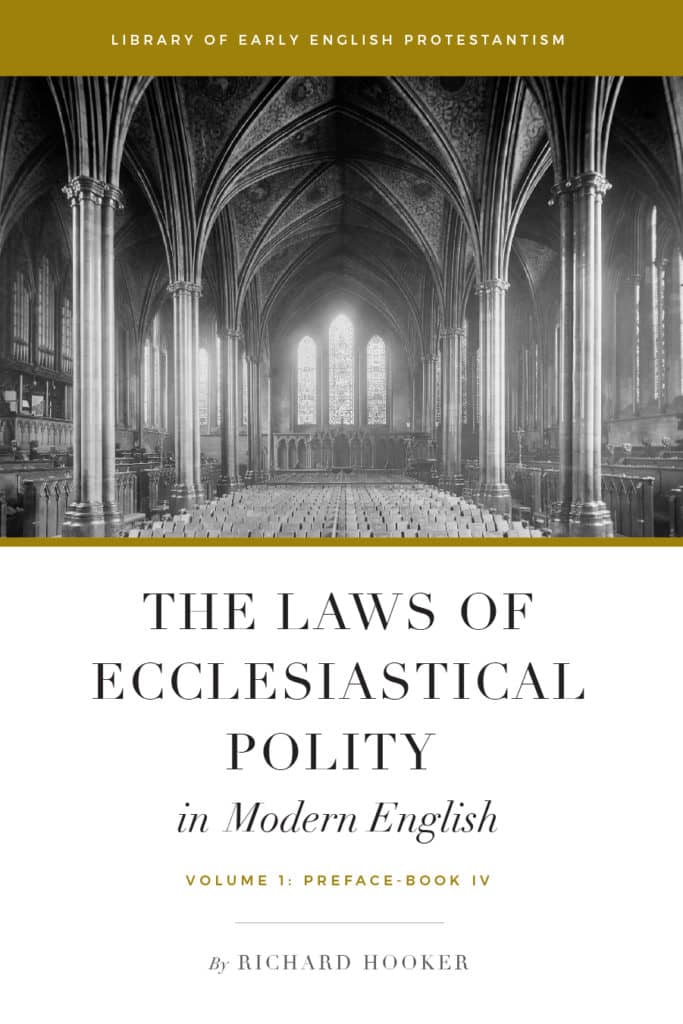 This is merely the first volume of a projected three-volume edition of Hooker's Laws, containing the Preface and Books I–IV. After perusing this book, I can't wait for the other two to come out, and I really wish the sentence-by-sentence modernization approach would catch on for other classic works from Church history!
Hooker who?
Richard Hooker (c. 1554–1600) would make any shortlist of most influential Anglican theologians. He defended the "Elizabethan Settlement" of 1559 against its Puritan critics, who maintained that the reformational return to Protestantism after the Catholic reign of "Bloody" Mary Tudor had not gone far enough. However, as D.F. Kelly notes, "in order to defend the Anglican establishment," Hooker
"circumvented both the Puritan appeal to Scripture and the Catholic appeal to church tradition by going behind both to the primary source of authority: natural law, which is implanted in people's minds by God and comes to full expression in the state" (Evangelical Dictionary of Theology, 400).
Hooker's magnum opus, the Laws of Ecclesiastical Polity, is therefore not merely a defense of the Elizabethan Settlement, but also a monumental work of philosophical theology. Its influence reaches beyond Anglican theology into the realms of legal and political theory.
Now, as Mark Chapman puts it, Hooker " is one of the most often cited but also one of the most hotly contested voices in the history of Anglicanism" (Anglican Theology, 103). It's therefore very helpful to have Bradford Littlejohn, author of Richard Hooker: A Companion to His Life and Work, to be working on this Hooker modernization project! Littlejohn's 42-page Introduction to the Laws will bring anyone up to speed on Hooker and his importance.
Easier to read
Sure, there's no substitute for the hard work of engaging with a primary text. And, if you want to, you can read Hooker's works for free online.
But Hooker's prose, though beautiful and elegant, can be quite demanding for us 21st-century readers. So the editors of this modern English edition have endeavored to simplify and clarify Hooker's writing, without abandoning the substance.
For just a small taste of the kind of modernization we're talking about here, consider the original first sentence of Book II:
"AS that which in the title hath been proposed for the matter whereof we treat, is only the ecclesiastical law whereby we are governed; so neither is it my purpose to maintain any other thing than that which therein truth and reason shall approve."
In the modern English edition, this reads:
"I have set out to discuss the ecclesiastical laws which govern us here in England, but I do not intend to defend by argument any laws except those which truth and reason will approve."
Overall, although the editorial changes are more thoroughgoing than, say, those found in the new International Edition of the 1662 Book of Common Prayer, I think the editors have done an admirable job in modernizing Hooker without dumbing things down.
What are you waiting for?
There's no time like the present to get a bit more familiar with "one of the greatest theologians that the English Church has ever possessed"! Pick up a copy of The Laws of Ecclesiastical Polity in Modern English today.
That's all for now!
~ Joshua Steele, Managing Editor of Anglican Compass
P.S. Hooker pairs very well with his mentor, John Jewel. An Apology of the Church of England is another Anglican classic well worth owning!
P.P.S. Thank you so much to everyone who has invested in Anglican Compass these past few weeks! We rely on your generous financial support. If you haven't done so already, please become a monthly Patreon supporter.